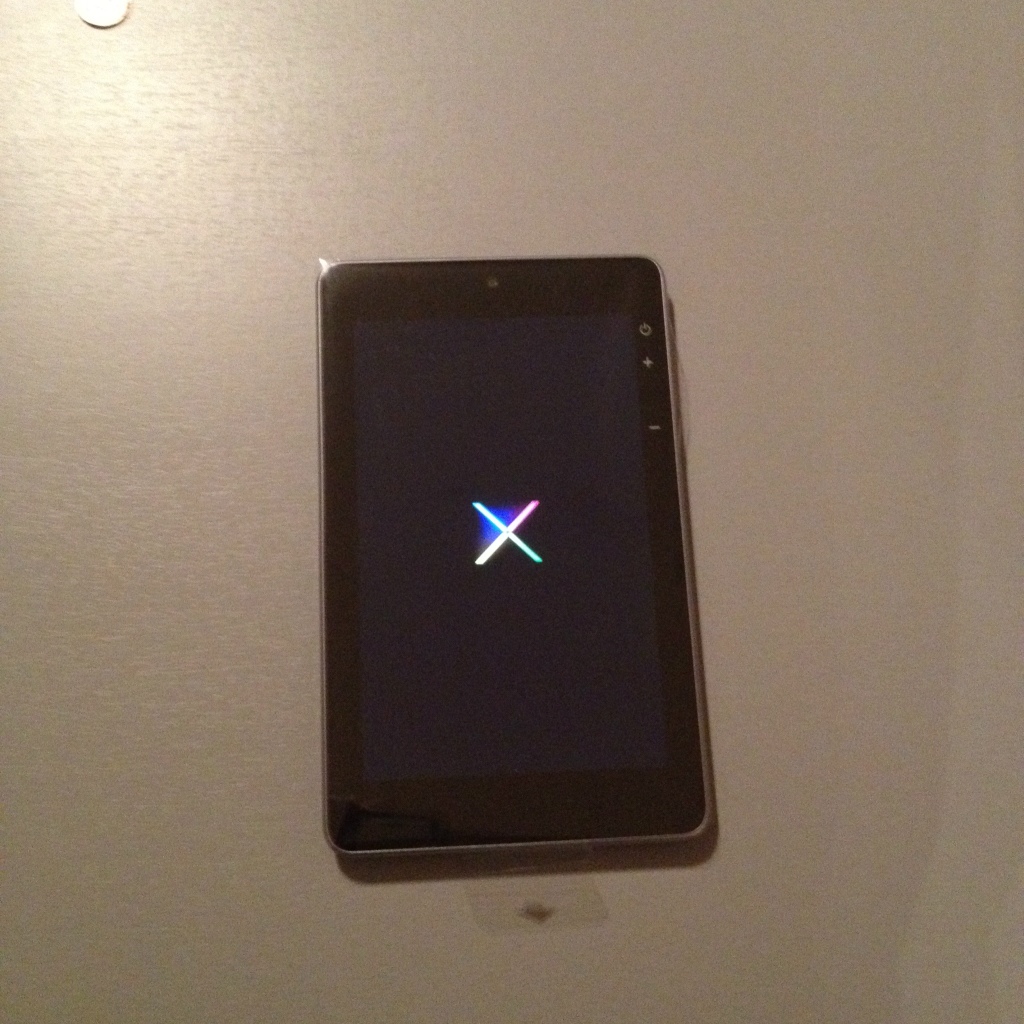 On the way back home, while passing through the airport I stopped at the Dixon's and found this baby, The Google Nexus 7. I've had a poor experience with previous Android tablets so wanted to see if Android had really gotten any better or was it more fanboy drivel. After having it for a week I can honestly say it's pretty good. There are differences between Apple and Android OS philosophy and there are some things I enjoy more on the iPad 2 than on the Nexus 7. I've been forced to make this my daily driver since my son has assumed control of the family iPad. So I'll discuss my thoughts on each aspect below.
Apple pays a great deal of attention to the out of the box experience in all their products. The Nexus came in a cardboard box with a sleeve that was almost impossible to open without tearing it. Inside was the Nexus wrapped in plastic, a box with the cable and charger inside, and warranty card. While not as great a packaging as the iPad at least it wasn't blister packed.
I turned it on for the first time and after doing it's initial cold boot, which took about a minute, we go to the language selection screen. I selected English of course then moved through the wizard in selecting an access point, entering my Gmail details and then entering the play store where Transformers 3 was ready for me to watch. It was thrown in as freebie.
I do a lot of reading and the Google Books app looked sorta nice. But you can't side load books; it only takes content you purchased through the Play store. It downloaded some copy-expired books, Jules Verne, Victor Hugo, etc, but I wasn't interested in reading those (they are good books just not what I'm looking for at the moment). Since Google's competition is the Kindle, the Nook, and the iPad, 3 devices with first party readers that do support undreamed ebooks this is something they will need to work out, soon.
Next I tried Google Music. The online version is still not available in France and I haven't plugged a tablet into a PC in ages. But when activated that was my only option. I looked at my iPhone, conveniently loaded up with music that hasn't been copied from a PC since I bought it, and shrugged. Google may rule the cloud but it appears the cloud doesn't work everywhere.
So books and music are a wash, surely video works. Netflix isn't available in my country (still feels weird saying that) nor was it presented as an option to download in the Play store. I do subscribe to playmo.tv so hopefully those guys were able to do some DNS magic for the Play store. I went into wifi settings, selected advanced options and changed my IP and DNS from DHCP to static. The dynamic IP remained, this was good, the DNS was blank so I entered the IP to the DNS servers playmo provides. I rebooted the Nexus and entered the Play store again. Sure enough the Netflix app was available to download. I Installed and logged in and was soon watching the show from where I left it. The Netflix app for Android would pause and stutter at the selection screen. It clearly wasn't as smooth as the iPad but having Netflix is better than nothing.
The Nexus 7 also includes 2 native players. The Gallery app and the Play Videos app. Play Videos would only display the files if they were local. I wasn't interested in plugging it into the USB port of my PC. I did watch a few minutes of Transformers 3. It was pretty good. The Gallery app was able to play some formats; mp4 it seems. It doesn't natively handle network shares, I downloaded another app (ES File Explorer) to connect to my NAS and pipe the data to Gallery. The results were good but Gallery is sort of bare when it comes to video control. I ended up using Mobo Player to watch the subsequent videos. I'm not a fan of Mobo's interface (I think it's not pretty) but it has all the controls I need.
Games are another thing. They are actually pretty good on the Nexus 7. For casual gaming, like Bad Piggies or Angry Birds, you wouldn't be able to tell the difference between this and the iPad. FPS games, I felt, weren't as smooth as they are on the iPad. This is a subjective observation and I don't have the tools to make a completely unbiased opinion. The zombie game, Dead Trigger, was just alright.
The Nexus 7 is a great device. It's just marred by the geo-locks Google puts in place for the moment. And some first-party apps that I feel are incomplete compared to the competition. For now, Apple still rules the roost. The iTunes, iPad, iPhone integration is much better implemented and I'm still waiting on Android's response to Airplay (it's not DLNA; snort). I am reading books on it. The main thing that keeps it from being returned is the fantastic screen, lightness, and the Kindle app. It's ironic that one of the best stores on Android is not from Google but their competitor. And the price is hard to beat. If you're invested in the iTunes ecosystem then the iPad mini is a better option. If you try to purchase DRM-free material when available then this is also a great option. I have reservations about Google's motives, they hacked around Safari's privacy settings because their tracking was more important than your privacy. Their were a  lot of features that I wanted to use but are still "unavailable in this country" like Wallet and Music.