A week ago I went on vacation to Hawaii to visit family. While I was there I took advantage of the exchange rate to get a device that I've been hearing a lot about. That was the Nook Color; an ebook reader available from the store Barnes and Noble. For a color ebook reader that boasts a 7-inch screen the $250 price is hard to beat.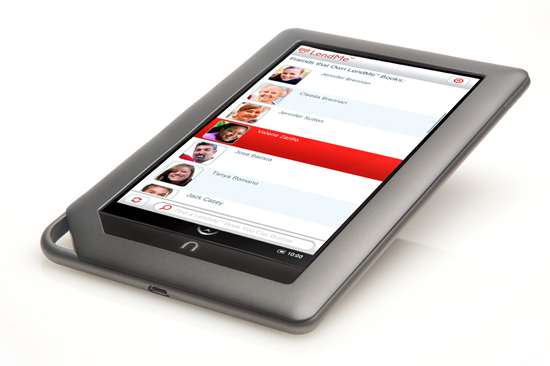 Already, hackers have gotten hold of the system and rooted the custom version of Android that runs on it. The underlying OS is Android 2.1(Eclair) which doesn't support Flash. According to BN an update should be available shortly that updates the system to 2.2 (Froyo) and includes the Flash player. The included reader application from BN is quite nice. It supports DRMed epub, open epub, text, and pdf files. A simple file browser allows you to open videos, pictures, and music files as well as browse towards your ebook files. There is a bookcase like display that you can add your current books too. Or, replacing the android status bar, you can go directly to the last opened book but selecting it from the status bar.
One thing the BN reader has that their Android Marketplace app doesn't is the ability to read books aloud. Since I have a 4 year old this was a very handy feature that isn't available in all the ebook reader applications I've tried. Without rooting the device your choices for entertainment are limited. It includes chess, crossword puzzles, and soduku as the included games. Rooting the device is as simple as downloading a file to an SDCard and booting from it. Instructions are available here. Once done you'll have acces to a different applauncher and the android market. I downloaded the game Angry Birds and had a great time playing it on a much larger screen than my iPhone.
Not completely satisfied with spending money on a device that only has one purpose I decided to install an alternate version of the OS. Using this guide I installed the current version of Android, 2.3(Gingerbread). But after being disappointed with the battery life, button placement, and available ereaders I went back to the original firmware, that I eventually rooted.
The current release isn't fast by any means but it is the one that works the best all things considered. CM7 didn't have proper power management and having to charge an ereader everyday was beginning to be annoying. With the original firmware the Nook Color can go a week between charges.